By Prado Geoff
Thanks to some early promo photos and a video clip released by the recon team interest has been growing for the monthly club trip. Everyone had been hoping that a week of rain will not be cause for cancellation, however no stand down was issued, so it's game on.
Our meeting place is CJ's at Wamuran 8.00am for an 8.30am start, no need to rush as I have already been nominated for the trip report. Some how Romana and I arrive early but it is fun to watch others arrive and tentatively ask if they are the last…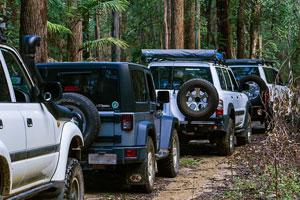 First frog fine $$ for the day goes to Jeremy who let slip that he was on his way to CJ's at Woodford and only stopped when he saw all the cars in the car park...
With eleven cars signed onto the trip sheet, it is time for our trip briefing. Essentially our briefing is one big disclaimer. After all, it has been raining, and a medium trip can become difficult very quickly. Good news is Craig has organised a key to get us into some restricted areas so we'll definitely be travelling "off the beaten track" Just in case we wander too far off the beaten track we all grab some extra provisions on the way out….
From our meeting point, we head down the road until we reach the turnoff. A short drive up to the park gate, and we have the second frog fine $$ for the day as Craig discovers that his key doesn't work.
Eleven cars turn around
Move to plan B
We drive further down the road, and after a couple of turns, we arrive at another gate. This time we wait further back from the gate and let Craig try it, hooray we're in.
Between lots of chatting we slowly air down and then we are off A reminder from Craig to allow plenty of stopping room to the car in front due to the slippery conditions and now would be a good time to engage low range.
The track is scenic and a nice change to pine forests, so far not too much mud but a lot of slippery clay sections.
The track is getting more slippery, and we soon hit a challenging gully. Romana comments how safe she feels as we drive with our new bull bar. I don't think I will tell her that with our tyres we are half driving, half sliding. Stopping at the top of the gully which resembles a skate park half tube we watch Lucky Lou's patrol take two attempts to ascend the other side. Romana decides to abandon ship leaving me to drive the gully alone, such a vote of confidence!
After two failed attempts Jeremy comes to my aid with some driving technique advice. Third attempt and I am up and over the rise. More a case of driver inability then car ability although driving on racing slicks didn't help.
Romana catches a ride with Jeremy and rejoins me, confidence in my driving has been restored thanks to some praising words from Jeremy.
A bigger longer hill comes next but no worries, Craig has each car stop at the top of the rise in case the following car needs a snatch and Steve uses the opportunity for a photo shoot. With everyone safely up the hill and no snatches required we stop for morning tea.
Craig tells us we will soon be at mango trees near where Col Ashton got stuck on the hill as seen in Col's "shenanigans video", everyone wants to see "Col's hill."
We are back on track, and after a few ups and downs, we come to Mango trees where everyone slows to have a good look at Col's Mount. Further up the track, Craig calls a halt at the power lines where two more frog fines are up for grabs.
Receiving his second frog fine $$ for the day is Craig when he finds that his key doesn't work again on the gate ahead.
Eleven cars turn around
Second frog fine goes to Bill who manages to dislodge his mud flap whilst trying to get up an alternate route at the turn around near the gate.
Meanwhile, Steve who has already turned around and is waiting for the rest of the pack puts his spare time to good use cleaning up. We pull up in time to see him waving his latest trophy find a pair of red underpants……some of these tracks can scare the pants off you!!!
With everyone now turned around we wait whilst Bill finishes removing his mud flap and for Steve to place his now full rubbish bag in Jeremy's jeep
(There we go again one Jeep driver rubbishing another jeep…)
Craig now leads us back down the track where we turn off onto the old rail track. No railway lines here so we can't go off the rails, but we can change back into high range for a very scenic drive.
After our picturesque drive thru fern lined cuttings and embankments, we arrive back at mango trees. After moving aside for some horse riders, we all set up our chairs at the base of Col's bluff for a well-deserved lunch. In such a location talk quickly turns to Col's attempt to drive the hill with a flat tyre. Craig also tells us Col forgot his recovery gear and never walked the hill to see the hump that got him stuck. This track should definitely be called "Col's folly".
All too soon, lunch is finished, and cars are moved to allow Jeremy and Laughlin in their Jeep access to Ashton Ave. The Jeep makes easy work of the hill, and in next to no time Jeremy is back down the hill and parked. However, Craig is quick to point out that Col attempted to drive the right-hand side whilst Jeremy drove the easier left-hand side.
Challenge accepted; if this was for the King of the Mountain, Jeremy would be Ace. Jeremy blitz's the track and in so doing the challenge is open.
The challenge has still to be answered, and next is Craig. Using the now regraded track and with only a stop to engage the front lockers Craig is up the hill and back. Definitely an 8/10 performance.
Everyone is now starting to head back to their cars when Anthony declares he is going again and earns another frog fine$$ when he announces he was still in "high range" on his last attempt.
The right gear and range selection works, and Anthony makes it up and back to receive yet another frog fine$$ for leaving Janine's window open and covering her seat in mud…. For Anthony, he receives a 10/10 for entertainment and Joker status in the King of the Hill ratings
After all the excitement at Col's Folly, it's time to head home. But first, we have another long hill climb to get to our exit point. Everyone including Craig is wondering if this will be frog fine number 3 for another locked gate, but no we are out.
So, after 30km and an enjoyable day, it is time to air up and head home to give the car a wash. At least my car and hair are not as bad as some.
Thanks to Craig and Jacquie for leading our trip, and thanks to everyone who came for making it a fun day. Once again, we have left the place better than we found it thanks to Steve's rubbish collection and Anthony's track maintenance.
And of course, a big thanks to Col for…
Prado Geoff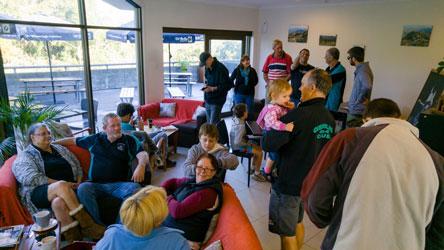 Waiting at the Wamuran bakery for all members to arrive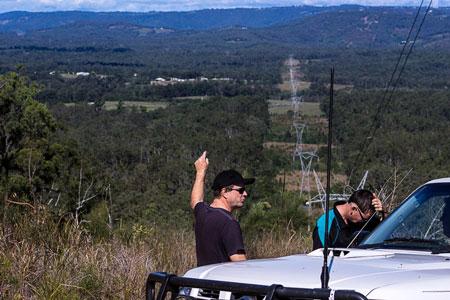 Giving directions?!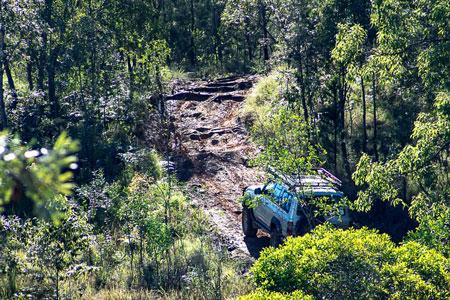 Up a hill we go