By Charlen Brown & Ross Brown (no relation!)
The Fraser Island Cleanup (FICU) trip was a long time in the planning. Charlene Brown and David Mier started on the FICU committee just after the 2016 Fraser Island Cleanup had finished. The club registered interest in February 2017 with final numbers submitted in March. The vehicle permits and camp tags turned up in April – one month out from the event.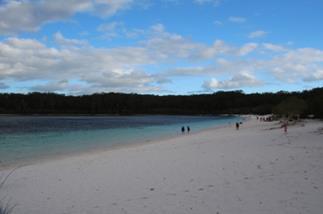 But despite all the planning, there were a couple of hick-ups. Ian & Charlene Brown (+kids), Tim and Kids, Rob and Barb went up a week early, which was lucky as this gave us an early warning of conditions and any issues on the Island. One such issue was the closure of our allocated camp zone due to Dingo activity. This meant that another camp zone had to be found–and fast. After frenzied conversations between Ian, Nola (FICU committee president), myself the only available site was Wyuna; some 50kms from our clean-up zone. Craig Colhoun managed to contact Dilli Village and negotiate a great rate for us; this meant our clean-up zone was literally on our front doorstep.
While we weren't right on the beach, and we had to pay a small fee; we now had hot showers, flushing toilets, a fire pit, a grassed campsite and we were sheltered from the wind. Due to the sensitive wastewater treatment at Dilli Village, all soaps, detergents and toilet paper were also supplied. After Ian, Charlene, Tim, Rob and Barb relocated their camp to Dilli Village, they finally got to explore the island. We headed up the island and spent a day a platypus bay where I got to fly my brand new DJI Phantom 4 drone for its first flight. On the way back Ian couldn't help take on the challenge of the wombat holes. The following day we went to Lake Garawongera such a pretty lake, and we stopped here for lunch before headed out towards the eastern beach to Poyungan Valley however shortly after leaving the lake the track was obstructed by a fallen tree and vines which we believe must have been caught by the last car which traveled through. Ian was pretty chuffed as prior to this trip purchased a new machete, and it was the first thing to be pulled out and put to good use, 15-20mins later with the track cleared we were off again and headed down to the beach for a bit of fishing however much to my disgust NO Fish, not even a bite!! The weather earlier in the week hadn't been great wind, rain and unfortunately, the fish were just still feeling those effects.
The following day Sean and Cherie arrived, after setting up camp we headed off to the western side of the island where it was hoped we would get blown away as the wind had picked up and it was blowing a gale. Earlier that morning Dianne from Dilli Village told us that the track to Gary's Anchorage was open, we thought no one goes there let's give it a go as we had never been able to get there due to the track usually being closed. On our way, we found a sign which said Toby's Gap Airstrip (abandoned), so we thought let's go check it out! WOW, what a beaut spot we all had a great time here, Rob transformed the Hilux into the HIGHLUX and prepared for takeoff, chocks away however with the control tower denying approval for takeoff we continued on our way. We traveled through dense rainforest and a variety of landscapes, and it was incredible that we were on an island completely made of sand. We followed the signs to Gary's Anchorage only be able to travel up to Buff Creek where there was a road block restricted vehicle access and a flashy camera to catch those doing the wrong thing. So we parked the Toyota's and walked down to Buff Creek. It was apparent as to why the road had been closed as the bridge which vehicles used to travel over had been washed away in the 2011 floods. Very few people have visited this part of the island since its closure however it was stunning, we could have explored here for hours. While exploring around the rocks Ian found a green turtle swimming and was lucky to snap a picture before she swam away. We all agreed that Buff creek would be a great fishing location! Back in the cars and next stop was Deep Creek where we discovered a shipwreck, it remains a mystery as the story behind it as it's not even marked on the map. We continued on our way and had a late lunch at Ungowa. The view was great! After lunch, we walked down the boat ramp and explored the old jetty well what is left of it from the logging days, amazing photo opportunities. We continued to head north to see McKenzie's Jetty with the everyone having a great time especially the kids playing in the boiler and sitting on the tractor. We then decided to continue our way north to Kingfisher Bay Resort where we enjoyed a late afternoon stroll on the jetty and to see the sunset. The kids enjoyed looking for fish and stingrays. After watching the sunset, we headed to the Sandbar Bistro for dinner. After our tummies were full, we headed back to the Eastern Beach coming back out at Cornwell's Break Road then back down to Dilli Village for the night. On our way back we saw a snake (not sure what kind) but Fraser is home to a number of the deadliest snakes in the world, so we were not hanging around to find out, we saw a barn owl and also a tawny frogmouth owl, so beautiful with the owls posing for photos. With arrival back to camp we all hit the sack ready for more visitors to arrive Friday.
After the Friday crew arrived, we headed out for the afternoon to Lake McKenzie and Central Station for a quick drive. At Lake McKenzie Cherie, Charlene and kids went for a walk and found themselves in a standoff with a green tree snake who was sunning its self on the boardwalk, very stubborn however we had it move in the end to allow us to run past.
Our club members arrived on the Island at different times throughout the week preceding the cleanup.
Myself (Ross), Ollie Fowler, Belinda and Dan and Jeff Hilderbrandt were last to arrive. Jeff had some car issues and arrived just as we were heading out for a drive on Saturday afternoon.
Ian led our convoy of 18 cars up to Cornwells Break Rd where I completed the sign-on for the club at the FICU tent. While we were there, Channel 7 were filming for Creek to Coast, and we all got involved – hopefully, we all get famous on TV.
After registration, Ian took us to Lake Allom, TSS Maheno and Eli Creek. At registration, Nola had given me some handouts from the many FICU sponsors, key safety information for clean-up activities, details of the lunch BBQ at Yidney Rocks and the evening event at Eurong. This was passed onto everyone just after having lunch at Lake Allom, with additional information provided by clean-up veterans, Ian Brown, Colin Ashton and David Mier.
Back at camp we completed our camp setup, started the campfire and kicked off some snacks for happy hour. After grazing for an hour to two, happy hour sort of rolled into some afternoon drinks and then dinner.
Everyone was up early on Sunday morning – our start time was 7:00am on the beach. Just before 7:00am, we gathered around the fire pit for a final briefing and then we broke into three groups. One group was working from Wongi camp zone closest to Eurong, going south toward Dilli; the second group was cleaning from Dilli north toward Eurong, with the plan to meet in the middle of the 10 km stretch of beach. The third group headed south from Dilli to get as far as they could before lunch. Col was doing laps with his trailer and taking the bags to the skip bin; as was Lea in her Cruiser ute. Two sponsor cars from Yakima (Dean, Emma and Chris) also tagged along and lent a hand.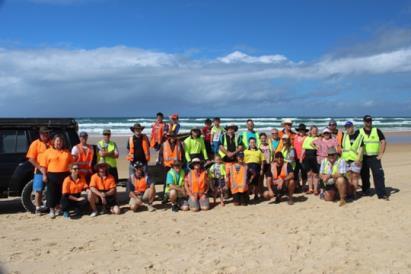 It was a dirty section of beach. Apparently, most of the rubbish washes up on the beach from the ocean, not so much from people actually on the island. Recent cyclones and storms have probably flushed out a lot from the city.
All three groups had interactions with the local dingos. I drove up the beach to act as a marker and to provide a ferry service back to get cars when everyone arrived up to where I was. So, I worked back toward the group. On the second leap-frog, a little girl climbed into my car and she refused to get out. I asked, "What is your name?" She said "Tallara Charlotte Archibald." So, it was Dean, Tallara and I working from the leap-frog point back when a dingo came out of the dunes. He headed for the kids, but I got them behind me. I'm not a big guy, but I was hoping I was more intimidating than a child. He came up close and started to circle us. He didn't seem threatening, but I was worried that a dingo could change attitude rather quickly, so I radioed back to the group for another car to come up.
Tim (Tallara's dad) got the message and headed our way in his 200 series. It didn't take long to cover the few hundred meters between us either. (There's no sound quite as sweet as a V8 on song hey Tim?). I noticed the dingo became uneasy when I advanced on him – so I kept moving toward him and he had turned away by the time Tim arrived.
Dissecting the situation afterwards, I think the dingos may have associated food with rubbish bags, so of course, a beach full of people holding bags full of rubbish bags was like Eid al-Fitr.
As we neared midday, the southern group finished up and came to give the two northern groups a hand to finish. Also, the Twin Rivers club pitched in and helped as they finished their area early.
We headed toward Yidney Rocks for the lunch barbeque, with Col dragging a raft behind him for the final run to the skip bin, which was on the way (located near Cornwell Break Rd). A few headed for the BBQ, but most hung behind Col
to lend a hand unloading.
I passed a cleaning group south of Conwell Break Rd, and they yelled and waved to flag me down. It was the Nissan Patrol Club. They had found a length of beach south of Conwell Break Rd that was still dirty and asked if our club could help. I headed off to gather the Qld 4x4 club troops when I heard another club on the radio; so I asked if they could help as well. It was the Just Cruisin 4x4 club on their way to start a trip. They stopped and pitched in by cleaning the middle section, while we cleaned the northern end near Conrwells, heading south. It didn't take long to get it done.
By the time we were on our way to Yidney Rocks, the BBQ was finished, and it had been rained out. I took Ian up to meet Charlene and to get his car, then those who missed the BBQ went to Eurong bakery for a pie. Dean, Andrew, Ty and I had a 'pie burger' – inspired by Graham and Shauno from 4WD Action.
While we did have a trip planned to go around the southern lakes drive, it was rainy, late in the afternoon and people were tired. So we relaxed at camp and took some time to scrub up clean for the evening of entertainment at Eurong.
Due to the rain, the event at Erong was squeezed in under the covered area of the pub. A few clubs had setup gazebos to ease the squeeze under the roofed areas. We also bought Ollie's gazebo, but didn't end up needing it as we managed to grab a spot inside. The Just Cruisin club borrowed it for the evening instead and set up their spot on top of the hill.
Tania Kernigan and Duo provided entertainment for the night, and the prize draw available was insane. So many sponsors and so many prizes. As trip leader, I took away an ARB camp chair, the club won a first aid kit for finding the most unusual item it was a complete wheelie bin with Tweed Heads embossed on it which David found, Skinny took home a couple of good priz-
es as did Melissa. Jeff Hilderbrandt won a set of Maxtrax and a $150 J&J Batteries gift certificate. But the most prized of prizes the Dragon Kayak was won by Ian Brown (aka Jan LOL).
At the end of the night, we all headed back to camp in dribs and drabs, with Craig and Harli accompanying Jeff as he had more car troubles and had to limp the little Suzuki home.
Back at camp, we sat around the fire for a while. But everyone was tired, and one by oneheaded off to hit the sack. We could sleep in tomorrow, there was no rush to leave the island as low tide was about midday.
In the morning we were all hoping to dry out the gear from the previous evening's showers before packing, but some serious squalls came through and put an end to that. David Mier was staying an extra couple of nights, while others started heading for the barge as they finished packing. In the end, I was among the last few to head off the island with Ian & Charlene, Rob and Barb, Tim Archibald and Sean & Cherie. One final stop at Eurong for a feed and to let Jas buy some souvenirs; then we did the dash around hook point for the barge. The beach driving home was in stark contrast to the beach when we arrived – the cleaning efforts were very noticeable.
After landing at Inskip Pt, we aired up and headed into Rainbow to refuel. Cherie and I were feeling dozy on the drive to the barge and decided to grab a coffee to keep us alert for the trip back to Brisbane.
One the way home we noticed that Cherie was falling back, particularly on the hills. She was having issues with high exhaust gas tempera-
tures. After trying some driving tips from Ian, it was concluded that there was more to it than gear selection and timing the run-up on hills. To take some load off Cherie's car, the camper
trailer was hitched up to my Patrol, and I towed it the rest of the way home.
Overall the Fraser Island Clean-up was very successful. The sheer size of the event and what everyone achieved was phenomenal. It was also great to see other clubs joining forces and helping each other – that really contributes to the spirit of the event.
Here are some statistics:
During the cleanup, the island had a total of over 700 people, from 24 clubs and managed to collect over 1100 bags of rubbish and that is without 2 clubs who are yet to provide their statistics. Yep, that's right – read that again.
Just our club alone had 30 adults, 11 kids and managed to collect 292 bags of rubbish. And yes, we checked and double checked the count – our club picked up 292 bags of rubbish.
A massive thank-you goes out to Charlene and David for their efforts on the FICU committee, Ian for his backstage work helping me as trip leader, Craig for negotiating Dilli Village in our hour of need and of course all those who came along participated and put in a massive effort.
Watch the Creek to Coast Fraser Island Cleanup Part 1 segment here