By Ross Brown
Fox in Socks, Cat in the Hat
Funny things, This and That
This trip report's a wee bit loose
It was inspired by Dr Suess!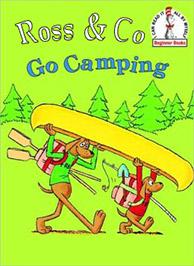 One truck, two truck, white truck, gold truck
Ben truck, Ross truck, Greg truck, old truck
This one has a trailer, This one has a bike
Say, look at all the trucks we like.
Where have they come from? I can't say.
But I bet they have come a long, long way!
One kid, two kid, three kid, four
That's not all , there is one more.
Get on a bike, go for a ride,
They've made a bike track out the side.
Some go slow and some go fast.
How long do you think they'll last?
Some got tired.
Some got hot.
Go for ice cream?
Wll, why not?
Kenilworth's the home of cheese
And ice cream too - YES PLEASE!
Driving back we slowed right down
For a horse and cart heading out of town
Back at camp we had some snacks
A time to chat, and relax
We grabbed some wood and lit the fire
And let the flames go higher and higher
'Twas Bradleigh's Birthday, I tell no lies
His Dad had arranged a big surprise
At camp Greg recited 'Green Eggs and Ham'
While Brad and Dad went to Monster Jam
Dinner time came and we heard a voice
"I want BEANS! - little Amy's choice
The garlic bread I put on the fire
Was burnt and looking rather dire
We needed more and in a hurry,
So Yah knocked up a quick Thai curry.
Sunday was our driving day
And Troy dropped in to say he!hey!
There's no set track for today
Pile in kids, we're off to play
Some tracks were blocked
Some went through
Some were steep
Some had a great view
We found a play hill for some fun
And practice how things are done
Ben drove mine and I drove his
Very different cars, both got a run
Out back of Imbil to the Lake
Pick an overgrown tracke to take
Where is Greg? He's left way back
Clearing Lantana off the track
'My duco, it's a lovely Gold'
'And not really all that old'
'The scratches they will stand out bad'
'And bit by bit will drive me mad'
Down by the dam we rallied there
To fil the tyres with some air
It took a while to compute
Why Greg Facey was just standing mute
A froggie fine, nothing lessor
Gred did not have his compressor!
Back to camp - wife's curfew
Start the fire, dinner too
The small kids went to ride their bike
The big kids said a swim they'd like
Down by the river we watched them splash
Till the message came "Dean's had a crash"
Dean was cut
Dean was bruised
Dean was sore
Band-Aids were used
A drink or two around the fire
Then one by one we all retire
Monday morning time to pack
Pack it all and then head back.
Some packed fast
Some packed slow
Some packed high
Some packed low
It's time to go, we can't stay
But we now know it's not far away.
Nice place to stay, Kenilworth Homestead
Thanks Ben and Sara, trip well lead!