By Craig & Jacquie Colhoun, Adri Wend and Steven Howard
Craig
Time to grab an early mark and head home to beat the traffic exiting the city for the long weekend ahead. Just need to hook up the caravan and pack the car fridge so that we can get to Neurum Creek before dark. Sounds like an easy plan. Right in the middle of connecting the van to the Patrol the heavens decided it was time to dump a load of rain.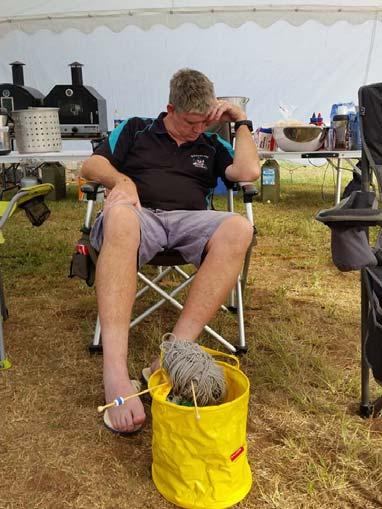 Even with an umbrella held over me, both Jacquie and I were thoroughly drenched. Luck would have it that just as we hop into the car, the rain stops. We had a quick trip up the highway and were happy to see that the rain had cleared before we got to camp.As we rolled into the campground, it was great to see that Col, Adri and Rudi, Maarten and Rosemarie, Ollie Fowler were already there, and the fire was already lit and under a 3x3 marquee. At least once we were setup, we could sit in front of the fire and have a drink. Later that evening Davie Meier and, Simon and Emily from MDORC arrived. It was lucky that Col had put the Marquee up as later that night the rain came down. It did not dampen our spirits as we were all dry on the outside thanks to the cover while making sure our insides were plenty wet while we all sat back and had drinks and discussed whether Dave would be on time or late. Time for bed so we will see what the morning brings.
Steven
Saturday dawned a nice day. Annemarie and I were only along for the day trip and the dinner so we loaded up the Jeep and headed for Woodford to pick up a morning coffee at the Bakery. We managed to arrive at Neurum Creek around 10 am expecting everyone doing the day trip to be all ready to hit the hills. This turned out to be somewhat optimistic and a relaxed start to the day seemed to be the order of things as there was a lot of activity going on setting up the kitchen and marque lighting. We sat down to watch with the remainder of the group while lights where fastened to tent poles, extension cords were expertly woven and zip tied into tidy wiring looms and the BBQs and tables were set up to Dave's exacting requirements. People were still arriving until sometime around 12 pm when Craig asked if anyone was interested in an excursion. Hand went up and some six vehicles set off towards Bellthorpe where Craig had an eye on mapping out a couple of new track sections and seeing what driving the opposite direction was like on a number of other bits he already had mapped. Driving the tracks around the Bellthorpe is always really enjoyable and this proved to be no less so. With mostly easy hill ascents and descents, it is generally a beautiful drive among the trees with some interesting sections that can be a bit challenging—especially if the track surface is wet. We had a good run through until we got to one hill section that was a bit greasy with a fair sized rock sticking out in the middle. The lead vehicles got through with a bit of power, but one vehicle got stuck and slid back down into a wet patch which required use of the Tracs. It then got stick on the hill about 20m further up and had to winch up to get back onto firm ground using a handy tree as an anchor. After that, I thought I had a plan to get through but lifted off the power a little early and the Jeep got stuck too, requiring the second use of our winch. Craig was very calm in supervising all three of the recoveries, after which the final vehicle in the convoy powered up without difficulty. We aired up back at the road and made our way back to camp to set up tables and dress for dinner. Dinner was a fine affair which was very well attended with people staying the weekend and quite a few just along for the day/evening. The country theme was enthusiastically adopted by many who decked tables and dressed in the appropriate style. Dave put on a really great feed as usual and no-one went hungry that night!
Jacquie
Well, Sunday we awoke to more rain! And, quite surprisingly, Dave Harper up before 7 am and ready to get breakfast started. As usual, Dave outdid himself and we had a wonderful breaky of bacon, eggs and pancakes. The Harper marque (6m x 12m) was again fully appreciated all day as it was the main congregation area for breakfast, cuppas, 4WD discussions (of course), lunch and dinner (being left over's from the Black Tie dinner). We also pulled out any games we had in our camping kits. The games included Pass the Pigs, Sequence, Pick up Sticks and card games. It was great to be able to sit around and enjoy the wet day with some great people and amusing stories. Simon's crew went for a drive into Woodford and very kindly got some more Canadian Club & Dry cans for Craig and I. Poor Simon had got up extremely early that morning to make the 2-hour drive to take his girls to soccer to find it was cancelled so he drove back via McDonalds drive through. Joy Ashton also made the trip to take Clay to football and it was also cancelled, I believe a quick shower at home was utilised before the drive back to Neurum Creek. As Adri and I were knitting Dave H decided to give it a shot too, here he quite aptly knitted six rows showing the men how it was done! Dave's lazy day also included having a snooze in his chair.
Adri
The cook (Dave) had toiled
With meat and veg boiled,
A feast of roasted goodness!
The tables where dressed
In there black tie best.
With a couple from the wild-wild west!
The conversation (Rum) flowed
with relative ease,
with laughter and good cheer!
With western hats, shirts and boots,
and a touch of elegance to,
The night progressed to being the best
Black Tie Dinner in the west!