Nothing annoys a Possum more than some upstart human shining an L.E.D. light beam in their eyes. Even 50 feet up a tree these invaders of Possum space can upset the natural flow of a quiet Saturday night.
Who are these humans? Why do they come here? Why are they in these ridiculous looking vehicles with big fat tyres, possum killing bars up front and daylight between the wheels and chassis?
Who are they indeed?
Some of them have come from Bloemfontein and Pretoria. Others, from New Zillind. Most are from just down the road in Brisbane. But they all sit around a fire below the possum perch and talk about their day driving their fat tall vehicles.
And so it goes……………
Landcruiser Mountain Park is arguably the best all round 4X4 park in this part of the world. Facilities could be a bit better but the camping and driving is outstanding. Half the drivers on this trip had not been there before and on our first and only outing on the Saturday had a great mix of beginner and more challenging stuff. Culminating in a mandatory ludicrous run only for those stupid enough to do it.
Oh yes, there were a few stupid enough to do it.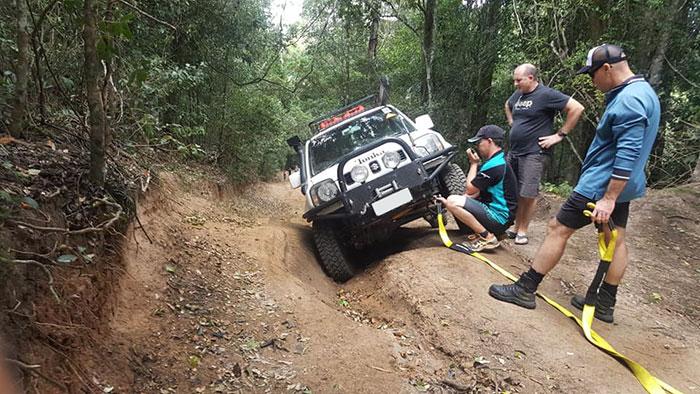 Ian Brown has become the "go to" trip leader for the club for most of the year. He took the group around a loop of one section of the park and as we had two visitor vehicles we made good progress on some easy to moderate runs. We slowed once when Peters Suzuki fell into a hole and couldn't resurface without a little tug. Landcruiser has its fair share of steep uphill's, mud and water crossings. Eventually we retired to Telecom Hill.
Now don't let the name fool you. Yes, you do get a good signal at the top of Telecom Hill, but by crikey, by golly, by gosh, you have to earn those signal bars. Whilst Harley was drooling over the latest V8 Nissan Patrol doing laps of the place and making Telecom Hill look like a trip through a Woolies car park, it was not enough to inspire him to take his own Patrol up there. Harley was not one of the stupid fools to try.
Anthony on the other hand had left the group before getting to the bottom of Telecom Hill to take the sedate drive along the ridge to the top of the hill to make a phone call. He sat at the top of telecom hill waiting for us to pop on up. Little did he realize that the sedate ridgeline took a significant dip down with a punishing rocky step to get back up to the top. He had to do this on his own with no support and clearly no sympathy from the group. But as this stint was unobserved we can only assume it wasn't too bad. Except for one glaring fact. When Anthony says he encountered some "tough going", us mere mortals can only interpret that as a few "oh S#@t" moments.
So here we all are. Sitting at the bottom of Telecom Hill looking up at the staggered jaggered and raggered rock climb to mobile phone bliss.
Up steps Ollie. "I'll have a go. I've done it before".
Now, I'm no novice. No expert either. I drive the one brand of vehicle that the club belittles at every turn and yet seem somewhat dismayed at its performance. But truthfully, I've only ever done this sort of run under the direct guidance of Jeremy Jones and he wasn't here for this one. But I too thought I'd have a go.
My wife wasn't with me, so what did I have to lose?
So off goes Ollie. Slow and steady as only Ollie does. Bouncing, lifting, leaping and steadily progressing up. 1 Bar…..2bars…..3bars…….
Ollie is the driving Yoda but I know his style would not get the Triton anywhere.
So off I go with Pierce as Co-pilot.
Almost instantly the Triton over revs and bucks up the first rock ledge. Bouncing, cracking, crunching, smashing from point to point. Audible destruction and no visual evidence of damage. Getting steadily higher and in serious trouble at every step. Pierce starts laughing and I realise we have gone over to the dark side of the force and back again.
Finally we reach Ollie and all is calm in the universe once more.
Having seen a Triton do it, Sharkey, one of our visitors for the weekend and a very experienced driver indeed, casually drives up Telecom Hill. Then down then up again. Then down again.
After a very late lunch we left camp for another drive. The shortest drive in the history of the Club. 200 metres from camp we took a steep uphill out to the main track. Charlene led and after a slight hiccup was up and over. Matt mistakenly stayed in High Range and flew up as if there were no obstacles and not realizing either his mistake or good fortune until the top.
Then me in the Triton and I had two stops before cresting the ridge. This 50 metre uphill was a tricky little sucker and still had a few surprises up its sleeve.
Now Anthony genuinely believes he is falsely accused of being heavy footed when he drives. He believes everyone thinks he drives fast and goes hard all the time. Anthony believes his driving is the opposite of this public opinion.
Anthony is wrong and we are all right.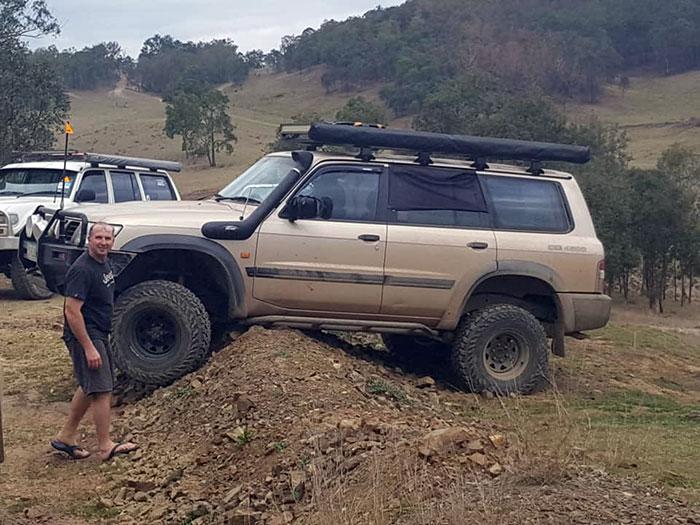 Anthony hit the hill hard and lifted his vehicle 2 metres off the ground before stopping abruptly. Then slowly reversing down again and limping back to camp with the rest of us following.
It took a quick trip back to the Landcruiser Park office to buy some spare suspension parts and a few hundred bucks later before his rear suspension was restored to new.
But the day was done and we retired to Happy Hour and our usual drinks around an impressive campfire.
So these are the people that invade possum territory. These are the people that shine torches into the possum's eyes.
But the possum stays in the tree and turns his back on these people. Because tomorrow they will leave and the possum will stay.
So: people of the Qld 4X4 Club, go ahead and waste your torch batteries and leave your food lying around. Even your family dogs won't make me leave my tree.
I'm here to stay.
Trip Leader: Ian Brown
Report: Don Bambry